*DISCLAIMER: This is a sponsored post, however all opinions mentioned are my own!
In my
last post
, I discussed Font Bundles, and mentioned their sister site, Design Bundles. Today I'm going to be talking about Design Bundles and their array of affordable digital products such as graphics, templates, mug mockups, patterns, illustrations and craft files. Like with Font Bundles, they have up to 96% off RRP and all products are designed by independent designers- meaning you know someone worked really hard to make a product for you to love.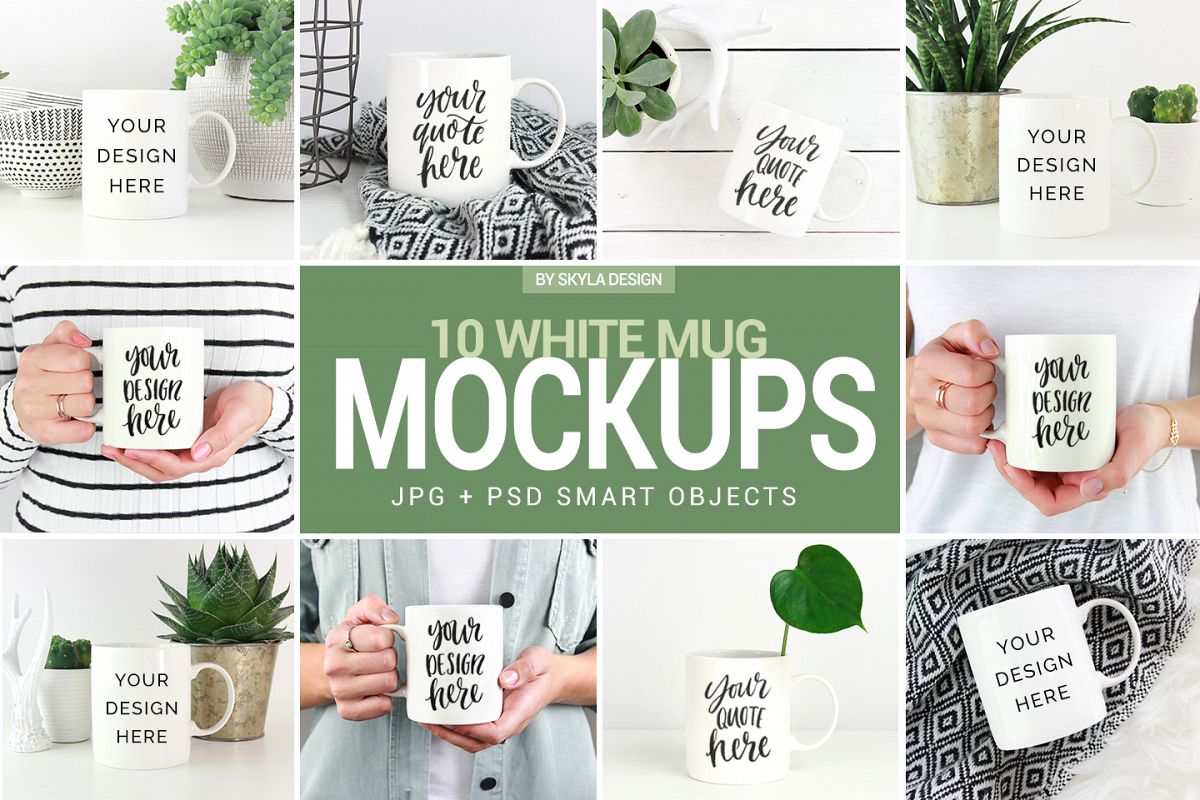 I'm focusing on a
mug mockup
, and a mug mockup is basically a mug that you can get your logo printed on to. The ones from Design Bundles are so lovely, and I love the calligraphy-type writing that can be put on them. In this deal, you get 10 white mugs with your design/logo/quote on them for £28.81, which translates to £2.88 per mug, which is fantastic value - you can get a plain white mug from Marks and Spencer for £3.20, or a white mug with your own pattern on it for £28.81 for 10 from Design Bundles.
If you were a small business owner, what better way to advertise yourself subliminally than on a mug? Giving prospective customers promotional items (such as mugs) is a sure way to ensure customers have an incentive to come to your shop/buy from you. Any salesperson knows that consumers immediately shut off when approached with an "aggressive selling" technique - think how they sell perfumes in Debenhams or Frasers. However, customers respond differently when they're
given
something. A mug is a product we all need and love - and giving customers a product they will use has proven to be more effective than giving people a business card. Almost every business card I've ever been given, I've ended up throwing away. But, I still have at least three of those giant Sports Direct mugs sitting in my cupboard. And to show how effective they are - I don't buy a lot of exercise equipment, but when I do, I look in Sports Direct first.
To ensure success with giving away promotional products, you need to ensure they are being given out to the right audience. This means you need to target your product accordingly. For example, I wouldn't be as interested in household accessories as my mum would be, and likewise my mum wouldn't be captured by an advertisement for alcohol as I would be. Giving away promotional products to anyone isn't at all effective and means you could be wasting money by targeting consumers who won't spend any money on your products. Giving branded mugs to loyal customers, vendors, suppliers, key stakeholders and non-competing business owners is always good, as these people actively
want
to see you succeed and many of these people will profit from you succeeding.
To sum up, giving away branded mugs will always be a way to ensure success - the mugs should reflect positive values about your business - and this process is made even easier with the collection of mug mockups available on Design Bundles.